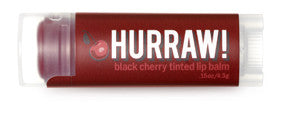 Hurraw
Hurraw Lip Balm 4.3g
$8.95
Super smooth, not draggy, not sticky, not sweet, not too glossy, not too smelly, never grainy, long lasting. It took several years for Hurraw! to formulate their balm and put it through all the rigors.
Hurraw! hand mix and individually pour each tube of balm. They truly care about the quality and integrity of the product. All ingredients are sourced directly from farmers ensuring the highest quality products, and making sure that the growers are compensated for their work. Hurraw! is the finest all natural, vegan, raw balm available; a great product to be used by everyone regardless of lifestyle or eating habits!
The Black Cherry balm provides a deep red sheer tint
All natural organic black cherry flavor makes it... sweet and yum!