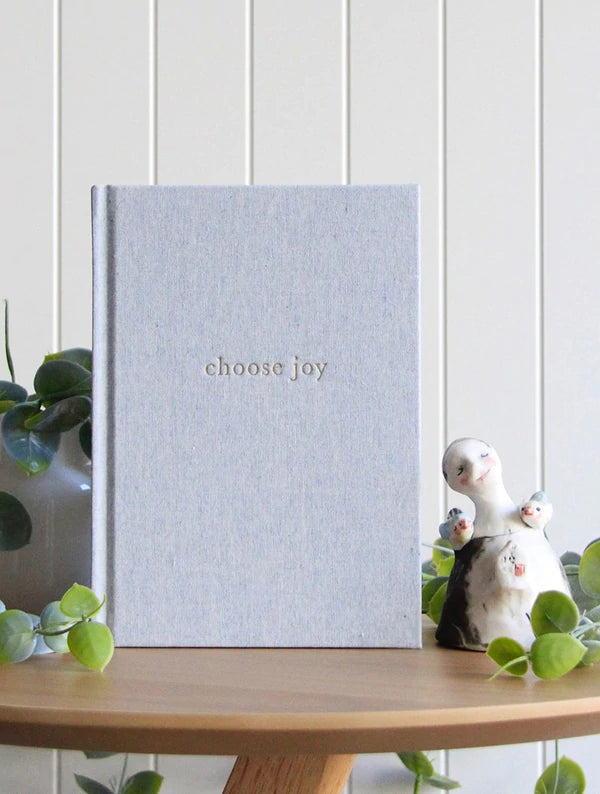 Write To Me
Choose Joy
$37.95
Joy does not simply appear. It's something we must choose to feel and when we do, it brings hope - even on the darkest days. This journal was created with @mylittlejoy_ as a place to help navigate post natal depression. A journal to share with anyone who might be experiencing mental health challenges in their lives. Writing down thoughts and feelings to work through can be one of the most therapeutic actions to put in the toolbox.
Putting pen to paper can help navigate some of the most emotional challenging times in life. It can also be a really helpful tool and outlet while navigating mental health challenges.

Sometimes we also get swept up in the groundhog days and forget to make time for what makes us really happy and content. Use this journal to find yourself in your writing.
148 x 210 x 17mm | 5.8 x 8.3 x .7in
Cover

Beautiful linen hard cover

Title

Gold embossed title and spine
Pages 144 pages. 100 lined & 44 blank
Endpaper Illustrated end papers
Paper 120GSM FSC certified paper
Binding Case bound
Ribbon Ribbon marker
We Recommend Using a ball point pen

We Recommend Photos dots, double sided tape or acid free washi tape for sticking photos
Designed in Melbourne, Australia

Write To Me own the copyright of this journal