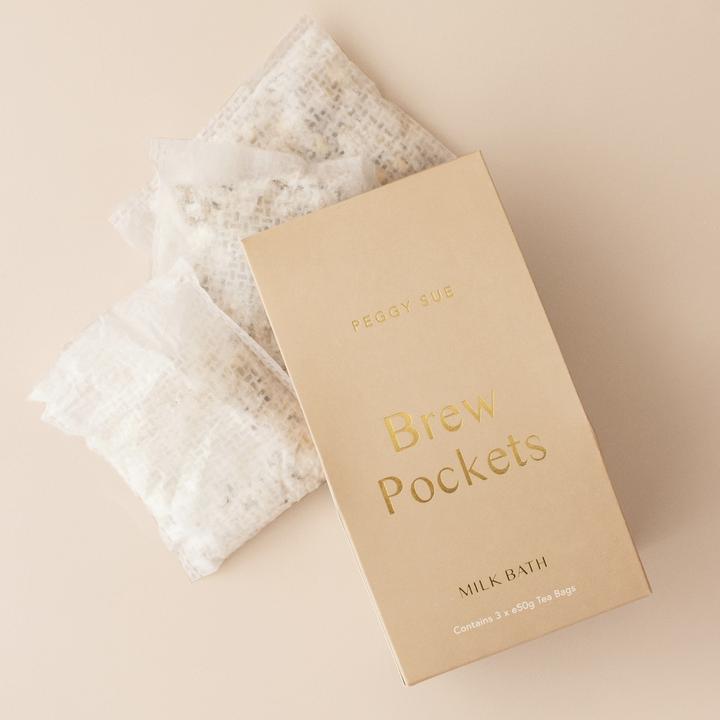 Peggy Sue
Milk Bath Brew Pockets
$32.00
WHAT DOES IT DO?
Do you enjoy slowing down in the busyness of life, and soaking in a relaxing warm bath? Then meet our Brew Pockets! AKA big tea bags for the bath. They infuse the bath water with colour and botanical goodness to create a fun and relaxing bath experience, leaving your skin feeling revitalised and silky smooth.
Our biodegradable Milk Bath Brew Pockets are filled with a delicious blend of coconut milk, oats, cocoa butter, epsom salt and so much more! Together these brew pockets will infuse the water with an array of vitamins, magnesium, and hydration which work to soften your skin, soothe and relax muscle tension, as well as giving your skin a big dose of nourishment and love.
Each box contains 3 x 50g tea bags, packaged inside individual cello bags. Both of which are 100% home compostable.
HOW DO I USE IT?
Place 1 tea bag into the bath under the warm running water. Gently squeeze the bag to release the botanical essence. Relax and soak for 15 to 20 minutes. Once you're done, pop your used brew pockets + cello bags in the compost, they're biodegradable!
WHAT'S IN IT?
Coconut Milk Powder*, Epsom Salt, Rolled Oats*, Arrowroot Powder*, Cocoa Butter*, Jasmine Buds, Lavender Buds*. - * Denotes Organic